News
Thursday, March 5, 2009
Jark Prongo - Helios (Re-issue)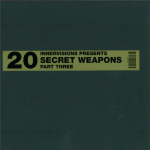 Back in 1994 we made a track called Helios, which was released on our Fresh Fruit Label.
An underground gem, made with just a Roland W30, R8 and JD990 (all bought at a music store called Helios ;-) ), and recorded in what was then our little bedroom studio.
Now Innervisions Records re-released it for their Secret Weapons series.
It still sounds kinda fresh, so check it out at your favorite download portal (album only) or your local vinyl shop.
http://blog.innercityvisions.com/2009/02/17/innervisions-20-out-now/
Friday, October 17, 2008
Spadet & M-Tech Re-release
The new release on the Mojuba sublabel features two classic and timeless moments of Dutch techno music. Last year René Et Gaston convinced us all with the fabulous "Merluche Ideal EP" and now they are back under their infamous Jark Prongo pseudonym. The main track "Spadet" was also one of the chosen tracks for the legendary X-Mix by Kevin Master Reese Saunderson on Studio K7!, and even after more than a decade since its original release, there are still goosebumps while hearing the magnificent sounds of that tune! The B-Side might be less know but it still captures that special feeling and the power of true detroit techno which never left our hearts. The whole package was remastered to today's standards by no other than the sound connoisseur Monsieur Redshape!
Buy @ Hardwax
Wednesday, January 30, 2008
Docphatt about Big Bam Boom
"Soooo, i dont know where and how you guys get your inspirations from......just let us know ;-)) i played BBB a couple of times and to be honest it is outstanding the people went crazy on the floor....so big up!!!"
Monday, January 14, 2008
Tall Paul loves Jark Prongo - Big Bam Boom
"Love it, Big Prongo fan, glad hes back."
Wednesday, January 9, 2008
Don Diablo supports Jark Prongo - Bum Rocking
Don Diablo "Full support for Bum Rocking -thanks!"